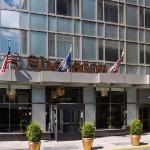 228 Duffield Street, Brooklyn (Map) 
A Very Good

, 4.05 / 5

 Based on 464 reviews
U0.8 miles from Barclays Center ( 7 mins )
&15 mins on foot
6
Featured Review- Taury: Overall, a great hotel - very clean and staff was friendly. Highly recommend
(show more)
Pros: Clean; comfortable; friendly staff.
Cons: Too far from Barclay Center.
We booked the Sheraton because we had tickets to a concert at the Barclays Center. Wish the hotel was closer - says within walking distance, however since we were unfamiliar with the neighborhood had to use car service. Car service was convenient when leaving the hotel but a little pricey for such a short drive. Overall, a great hotel - very clean and staff was friendly. Highly recommend, just be prepared to pay for car service if you are looking to venture away from hotel.