The Lionel Messi of the Billboard 200
It was a Monday so we were definitely working. We were working very hard on important, urgent, grown-up work-type things.
In no way did we become completely and utterly distracted by this
kick-ass piece about Lionel Messi
(seriously go and read that) because that would mean that we weren't working, and as I stated above, we were definitely working.
Others may have had their heads turned by the realisation that Lionel Messi is an impossibly fantastic soccer player. He's the most productive striker on the planet (in terms of goals and assists) & the 9th most efficient; he's also able to shoot more efficiently from outside the penalty area than many players shoot inside it; and he scores more direct free kicks than any other player in the world.
But not us, we kept our focus. We were definitely working, and when we're working, we are working.
We certainly didn't start talking about who is the Messi of music. We positively did not start digging into stats to figure out which of the top selling billboard 200 artists released the most albums, had the most number one albums, consecutive number one albums, best hit rate or longest career span.
We definitely didn't make this: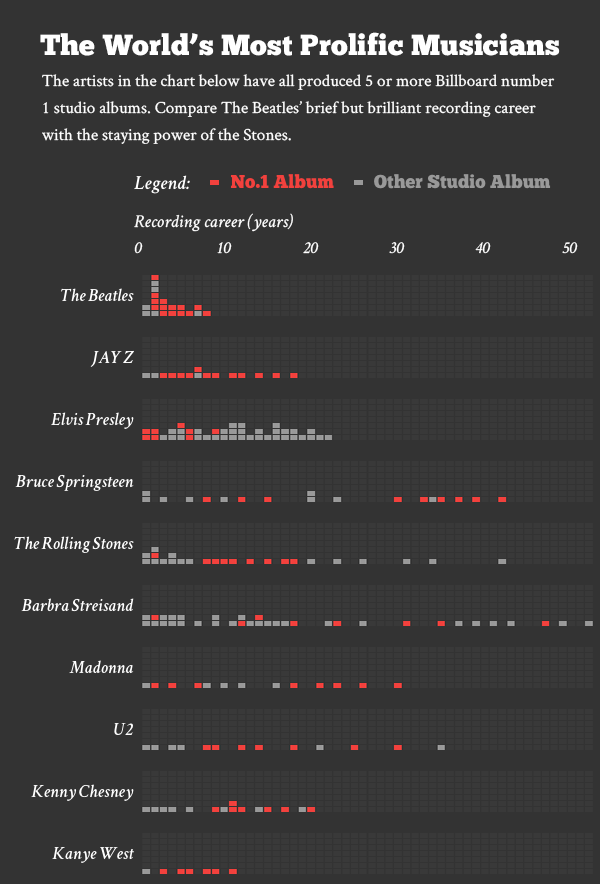 Ok, ok, ok. We totally did make it.
The results were pretty surprising; go and have a play - we'd love to know what you think?